A group of Sheffield Labour candidates have been promoting their support for the Green New Deal
This Tweet really saddened me because it is so obviously untrue. Green Councillors and candidates have been campaigning for a Green New Deal for many years. All the Green Party candidates support a Green New Deal for Sheffield. Nationally Caroline Lucas and Clive Lewis (Labour MP) have cooperated brilliantly together to promote the campaign in Parliament.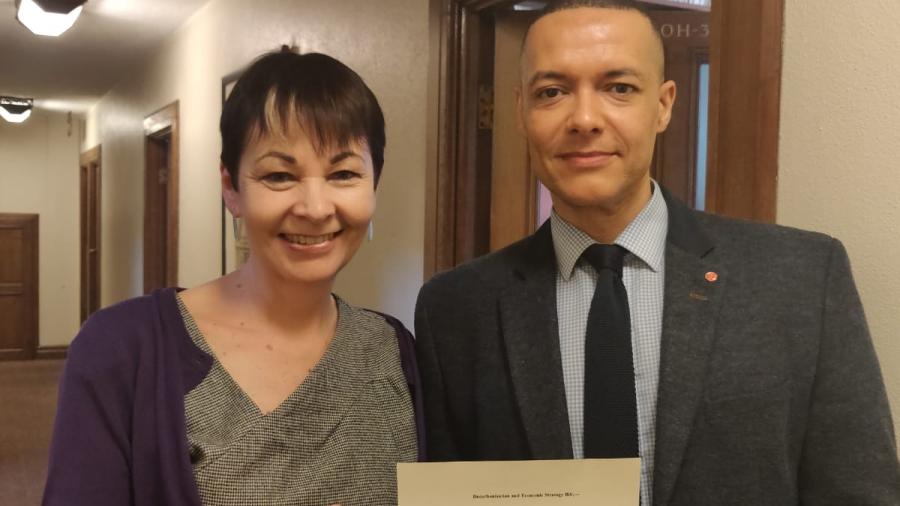 To successfully tackle the climate emergency it is vital for politicians to work together and cooperate. Instead of rubbishing the Greens, these Labour Candidates should be working with them and learning from their experience. The Labour for a Green New Deal movement have many good ideas and some of these people I consider to be my friends. However I have to call out the untruthfulness of this tweet.
It is very clear from the map that none of these candidates are currently in the Cabinet. So if they were elected they wouldn't have the power to change the Council policies. The map also begs the question, what do the other Labour candidates support? The planet has not got time for us to elect politicians that are not taking the climate crisis seriously.
To be sure of voting for a candidate that makes the climate crisis the top priority, vote Green. Please do not vote for the following Labour candidates who are apparently not supporting the Green New Deal.
Mick Rooney-Woodhouse
Adam Hurst- West Ecclesfield
Lisa Banes-Stocksbridge and Upper Don
Tony Damms-Southey
Peter Price-Shiregreen and Brightside
Mike Drabble-Richmond
David Barker-Richmond
Tony Downing-Mosborough
Robert Johnson-Hillsborough
Jackie Kennedy-Fulwood
Alan Law-Firth Park
Zoe Sykes -Ecclesall
Andy Bainbridge-East Ecclesfield
Samantha Nicholson-Dore and Totley
Mazher Iqbal-Darnall
Bryan Lodge-Birley
Julie Gledhill-Beighton
To find out more about the candidates in your ward visit https://whoismycouncillor.co.uk/