A guest blog by Oliver Blensdorf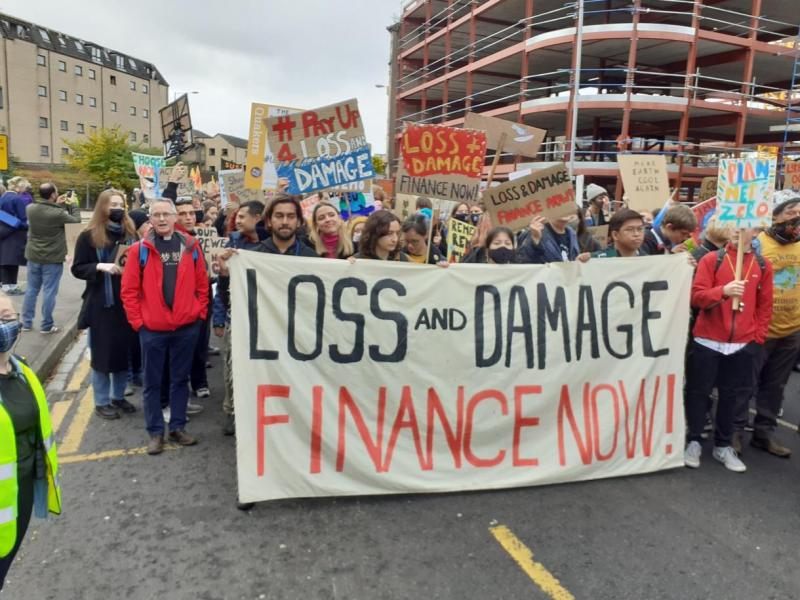 As of last week, in Pakistan, one-third of districts have had to declare flood emergencies, leaving at least 10% of Pakistan's land area actually under water. That's equivalent to one-third of all the land in the whole United Kingdom. And Pakistan is not alone in such devastating experiences, as climate change takes increasingly destructive effect around the world.
If that one-third of UK land was suddenly swamped by flood water, how much would it cost simply to reinstate all the destroyed homes, roads, shops, businesses, and all the other inevitable physical damage? And of course it's not just about land and buildings. Already in Pakistan, over 1,000 people have lost their lives, and at least 33 million people have been displaced from their homes.
Estimates so far put the damage to Pakistan's economy at around $10 billion. Pakistan's total tax revenue for this year will be about $17.7 billion. But $12.5 billion of this will be swallowed up in repayments and interest on foreign debts. That leaves very little, even just for education, health, and generally keeping the country functioning.
On top of that, for the past twenty years, Pakistan has consistently ranked among the top ten most vulnerable countries in the Global Climate Risk Index. Yet Pakistan is responsible for less than 0.5% of global greenhouse gas emissions to date, whereas the UK is responsible for around 7.5%, and the rich countries together are responsible for more than two-thirds.
But as well as burning fossil fuels, the North's two centuries of industrialisation needed huge amounts of materials and labour, and the cheaper the better. For example, how did Britain, a small island off the north-west coast of Europe, come to dominate so much of the world by the end of the nineteenth century?
It used its naval and military strength to invade and take control of dozens of countries in the Global South: the British Empire. It seized and sold their natural resources: from Africa even people, as slaves. It turned their agriculture over to cash crops, including food, for cheap imports back to Britain: even throughout The Great Famine of 1876–78 in India. And it even destroyed competing industries: such as India's pre-colonial world-dominating textiles industry.
And since the official colonial era, the rich North has found a new method of keeping its colonial-style exploitation going – debt-relief packages… with conditions! Turn your economy over to prioritising debt repayments. Raise your taxes. Slash your public spending on schools, hospitals, infrastructure and industry-building, and your subsidies for affordable food.
Turn your farming and forestry over to cash crops for export in order to earn dollars or sterling, because nobody wants repayments in your local currency. And attract rich-country foreign investors by removing your tariffs on their exports and allowing them to take their profits home.
Result? Very many Global South countries now have, in effect, zero money even to repair destroyed roads, or to feed, heal and rehouse their suffering people, in the aftermath of hurricanes, floods, droughts or crop failures – let alone the money to invest in resilience measures against future climate-induced disasters.
In other words, the North now owes a huge unpaid and still growing debt to the South – economic debt, climate debt, and simple moral obligation.
Part of this obligation now has a name, "loss and damage". Loss means what is destroyed for ever, damage means what can still be repaired. The principle was first formally recognised at the United Nations as long ago as 2007.
But for the people of the Global South, covering loss and damage is just one element of the North's debts to the South, and does nothing to break the endless cycle of impoverishment and exploitation. That will require, for instance, an end to extractivism, the cancellation and ending of unaffordable debt, and patent-free transfers of energy-transition and other vital technologies.
Meanwhile, though, at the COP26 climate summit in Glasgow last year, the countries of the Global South did put a proposal on the agenda to set up a financial facility for climate-related loss and damage, but instead of being addressed it was promptly kicked into the agenda for COP27 in Egypt later this year.
To their shame, the UK government is one of those still trying to block the proposal. This is unacceptable. So on Thursday 22nd September a Loss and Damage Action Day across the country is being held jointly by Global Justice Now, War On Want, Make Polluters Pay, a coalition of faith groups, and many others. All are inviting members of the public to show their support by joining in, and by signing the petition to the UK government.
One local example is Rotherham for Global Justice, whose members will be holding a banner outside the West window of the Minster, on Corporation Street, from noon.  And wherever you live, please sign the petition on the Global Justice Now website. https://act.globaljustice.org.uk/tell-rich-countries-pay-their-climate-damages.
Also in Sheffield meet at the Town Hall steps at 11.00 am, with banners and placards, primarily for a photoshoot and a speech  and then concentrate on engaging with passers-by, focused on getting signatures for the petition and encouraging interest in the GJN leaflet, for as long as seems productive. Then move to the lower end of The Moor (the Sainsbury's area), probably by 12.00, and continue collecting petition signatures until 2.00 pm.
The historically-exploited and increasingly climate-devastated countries like Pakistan now need our solidarity in demanding that, at the COP27 climate summit in Egypt this November, a sufficient loss and damage fund will finally be set up, as an emergency down-payment on the North's enormous debt to the South.